NUMÉRO 1
---
LE SUJET DIGITAL
---
Sous la direction de Claire Larsonneur, Arnaud Regnauld, Pierre Cassou-Noguès et Sara Touiza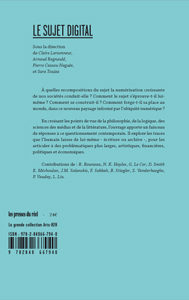 1. Politique du sujet

 N.K. Hayles, Non-conscient cognitif et algorithmes de trading automatisé

 B. Stiegler, Du psychopouvoir au neuropouvoir

 L.H. Liu, La probabilité du sens dans la machine hypermnésique
2. Le numérique fait-il monde ?

 J. M Salanskis, Le computationnel et le sujet

 P. Vauday, Sujet à mémoire
3. Traces et prothèses

 F.D. Sebbah, Traces numériques : plus ou moins de fantôme(s) ?

 M. O'Gorman, Introduction à la démence digitale

 R. Bourassa, Enjeux de la mémoire : entre hypermnésie et oubli

 E. Mechoulan, Organisation des archives et métadonnées dans des contextes hypermnésiques
4. La page blanche et l'oubli

 D. Smith, Clichés et page blanche : pour une politique de la créativité, de l'imagination et de la mémoire

 G. Le Cor, "A divergent elsewhere" : effacement et superpositions dans Tree of Codes de Jonathan Safran Foer et The Desert de Jen Bervin

 S. Vanderhaeghe, Eloge de l'oubli (Notes sur la littérature en temps de crise)
---
THE DIGITAL SUBJECT
---
Edited by Claire Larsonneur, Arnaud Regnauld, Pierre Cassou-Noguès et Sara Touiza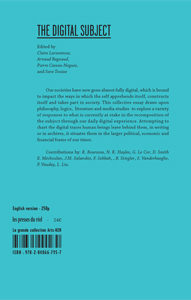 ---
1. Politics of the self

 N.K. Hayles, The Cognitive Nonconscious and Automated Trading Algorithms

 B. Stiegler, From Psychopower to Neuropower

 L.H. Liu, The Probability of Sense in the Hypermnesiac Machine
2. Digital world-forming

 J. M Salanskis, Computation and Subjectivity

 P. Vauday, Memory Disorders : Memory Forms
3. Prosthetics and traces

 F.D. Sebbah, Digital traces : More or Less than Phantoms ?

 M. O'Gorman, Introduction to Digital Dementia

 R. Bourassa, The Challenges of Memory : Between Hypermnesia and Forgetting

 E. Mechoulan, The Organization of Archives and Metadata
4. Blank page and oblivion

 D. Smith, Clichés and the Blank Page : For a Politics of Creativity, Imagination and Memory

 G. Le Cor, "A divergent elsewhere" : Erasure and Layering in Tree of Codesby Jonathan Safran Foer and The Desertby Jen Bervin

 S. Vanderhaeghe, In Praise of Forgetfulness (Notes on Literature in Times of Crisis)
NUMÉRO 2
---
STARS ET SOLISTES DU MUSICAL HOLLYWOODIEN
---
Sous la direction de Marguerite Chabrol et Pierre-Olivier Toulza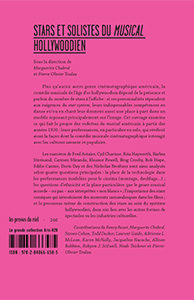 1. Corps « technologisés »

 T. Decker, Fred Astaire, Captain America et le cyborg : le corps technologique d'une star du musical

 A. Robbins, « Expérimentations de notre département son » : les stars du play-back dans le Hollywood des années 1930

 M. Chabrol, La déesse en mono : doublages de Rita Hayworth
2. Performers des minorités

 K. McNally, Les Nicholas Brothers dans les musicals hollywoodiens : spectacle, récit et questions raciales

 P.O. Toulza, Bigarrure et blanchiment : Carmen Miranda et le Technicolor

 R.J. Stilwell, Imitation, incarnation et hommage : la révérence d'Eleanor Powell à Bill Robinson
3. Comiques du musical

 S. Cohan, Le comique de comédie musicale : Bob Hope dans la série desEn route et dans Le Fils du Visage Pâle

 N. Teichner, Eddie Cantor comique chantant : personnage et célébrité à travers les médias

 J. Nacache, Fanny Brice/ Barbara Streisand : « The Original Funny Girl »
4. « Starisation » et stéréotypes médiatiques

 A.L. McLean, Cyd Charisse : la ballerine du cinéma américain

 F. Beuré, Les premiers musicalsWarner de Doris Day : l'importation d'une star du disque

 L. Guido, Des corps à l'affiche : les stars du musical en regard de la photographie publicitaire
---
STARS TURNS IN HOLLYWOOD MUSICALS
---
Edited by Marguerite Chabrol and Pierre-Olivier Toulza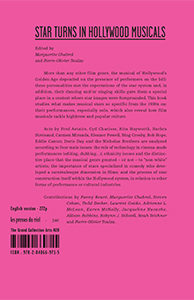 ---
1. Technological bodies

 T. Decker, Fred Astaire, Captain America and the Cyborg : The Technological Body of a Musical Star

 A. Robbins, « Experimentations by Our Sound Department » : Playback Stars in 1930s Hollywood

 M. Chabrol, The Goddess in Mono : The Dubbing of Rita Hayworth
2. Minority performers

 K. McNally, Featuring the Nicholas Brothers : Spectacle, Structure and Racial Interventions in the Hollywood Musical

 P.O. Toulza, Adorning and Whitening : Carmen Miranda's Technicolor

 R.J. Stilwell, Imitation, Embodiment, and Homage in Eleanor Powell's Tribute to Bill Robinson
3. Musical comedians

 S. Cohan, The Musical Comedian : Bob Hope in the Road to Series and Son of Paleface

 N. Teichner, Eddie Cantor, Singing Comedian : Celebrity and Character Across Media

 J. Nacache, Fanny Brice/ Barbara Streisand : « The Original Funny Girl »
4. « Star-making » and media stereotypes

 A.L. McLean, Cyd Charisse : America's Movie Ballerina

 F. Beuré, Doris Day's Early Warner Bros. Musicals : The Transition of a Star from the Recording Industry

 L. Guido, Bodies on Display : Musical Stars and Advertising Photography